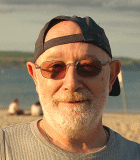 Giuliano (Nick) Necchi

February 2015 - We are sadden to announce the passing of Giuliano Necchi, known to most of us as 'Nick'.
Those who attended the AGM will know that we recognised the recent passing of long serving member Nick Necchi.

Those of you who knew Nick will remember him as an active and dedicated member of the team during the years he spent with DorSAR.

Nick Joined DorSAR in 2005

Completed training as a Search support member with HantSAR in 2005

Acted as membership secretary from 2006 – 2010

But will in main be remembered as our main Control Vehicle driver and Control Communications Officer during searches up until leaving in 2012
Our thoughts and condolences go out to his family and those who knew him well at this time.