Mental Health Awareness Week 2021 - How nature helped two Search Technicians with their mental health journey
---
Dorset Search and Rescue are proud to support the Mental Health Foundation's 2021 Mental Health Awareness Week. In support of this, two of our volunteers describe their own mental health journey and how nature has helped them.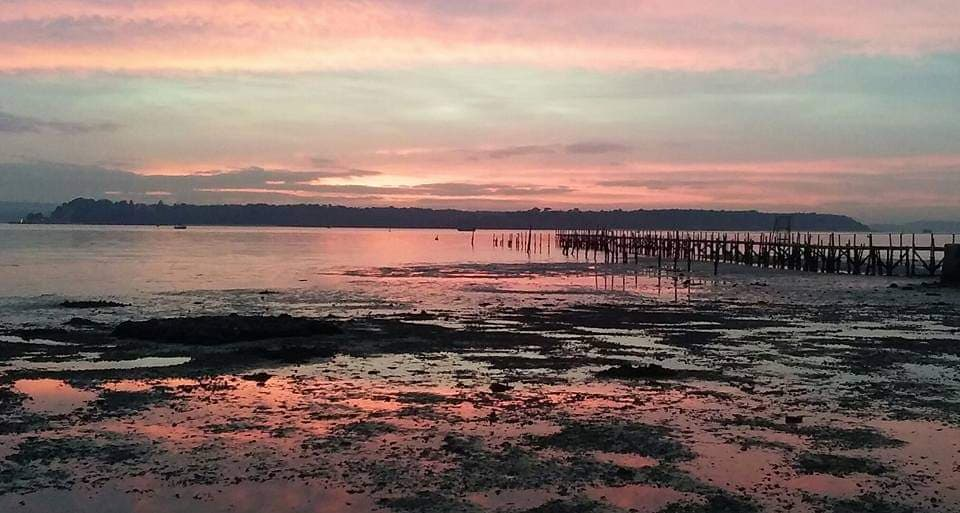 Volunteer's A's Journey #1:
I am well aware how nature, and perhaps more broadly the natural environment, has helped me over many years - since childhood in fact. I have no relationship with God, I never have had, and I'm not shy to categorise myself as an atheist. This is all well and good but it leaves a bit of a gap when it comes to dealing with bereavement, loss, suicide and so on.
My dad died when I was a baby. I have no memory of him and as a young boy, living near the coast on the Isle of Wight, I struggled with what was an intangible loss. I had lost someone that I had never known, but seeing other kids around me with 2 parents none the less pressed the point home in an uncomfortable way. By age 8 I had discovered that being on the beach walking alone with the dog (it was the 1970s after all), listening to and watching the sea especially around sunset and sunrise gave me an inner peace that I didn't find elsewhere. I wouldn't have used those words as an 8 year old but I knew it felt good and peaceful and I wanted to repeat it. As the years rolled by this led to longer walks to the top of Culver Down, with the extended views across Sandown Bay. The longer views added to the sense of special experience / wellbeing for me. Sadly, my mum moved away from "the Island" and to East Anglia when I was 11. We had moved to a flat landscape well away from the coast - and I longed for the coast, cliffs and views that had made me feel good. Age 12 I first visited the Lake District and three weeks in a camper van was enough for me to know that I would be a happier person with a closer relationship to landscape and nature.
I went to the mountains at every opportunity over the next 20 years, I studied ecology at university and managed nature reserves at work. My well-being pot was full until life took an unexpected twist in year 2000 a few months after my twin girls were born. Their mum was sectioned repeatedly and resident in various psychiatric units almost continuously for 3 years. This period was littered with suicide attempts and my well-being pot needing serious and frequent topping up. As a single parent it wasn't achievable to return to the mountains and, living in the Cotswolds, I switched to frequent long distance cross-country running. Long distance was key as it gave me time to think and to process. Cross country was key as I needed to be out in the woods, on bridleways, footpaths, away from traffic. I needed to hear the wind in the trees, wade across flooded fields, jump fallen branches, hear bird song. I had some wonderful experiences running amongst startled deer and even ran side by side with a badger for maybe 50 meters one evening. On another occasion a barn owl glided alongside me and on another leapfrogging with a kingfisher along a canal towpath. On many occasions during these tough years I'd collect my wife from hospital and take her out to nature reserves for a short walk with the girls. The story didn't have a happy recovery ending and in 2007 I relocated with my girls to Dorset (to be with my new partner). I knew that Dorset had coast, hills, beach and views and I knew that me and my girls were going to need all the well-being benefits that would bring over the years to come.
Dorset doesn't get much further from the Britain's high places and, since 2007, my go to for mental well-being has been running the coastline in Poole and Bournemouth and on the hills and heaths of Purbeck. I am lucky to be able to run from home and down Branksome Chine to the beach in 20 minutes. For several years I timed my runs for low tide (to run on firm sand) and preferably hit sunrise / sunset to maximise the specialness. Running in Dorset I have got to know certain bird species in certain places – for example the black and white Oyster Catchers around Poole Park and Whitecliff with their distinctive call, Little Egrets also around Poole Park, Curlew at low tide in Poole Harbour and the fast moving Sanderlings running in the waves along Sandbanks which have become something of a favourite. Some people like to walk or run listening to music – for me this would detract from the sounds of wind, waves and birds that are all special to me and make me feel good.
Exposure to nature comes in all shapes and sizes – you don't need to run or even walk. You can sit on a bench a few meters from your car and enjoy what nature brings to you or like me and many others sit in your local park or your back garden and do the same.
DorSAR's Fitness Assessments and training exercises are part of my natural environment approach to well-being now. The Fitness Assessment is a 5 mile walk in beautiful landscapes with beautiful views. Deer are often nearby and last week our group on Purbeck had a close encounter with a young adder.
---
Volunteer's Journey #2:
Imagine the scene, it's May and the first time the Scouts would be camping in the year, me working all week in what was becoming a more and more highly stressed job, exam papers to set and potential grades to be awarded, along with a vast amount of marking, shopping for the weekend to complete, trailer to pack and it looks like it will rain all weekend.
Well, we got to the campsite, all set up, everything OK, grading forgotten, and little did I know at the time, but I wouldn't award them. Rain didn't materialise but I had a headache which would not go away. By Saturday evening I was in agony and drove home and went to bed for the next 3 weeks, yes 3 weeks, the doctor was called and said it was a migraine, prescribed some extraordinarily strong painkillers, no effect. It felt as though I had red hot pokers being stuffed inside my brain.
I was sent for a brain scan, imagining the worst. Nothing was found apart from the fact I had a brain! My doctor said stress, was signed off work for a month and told to rest. So, rest I did by staying in bed, reading, walking and remembering the wonderful places I had walked in Wales and the Lakes. At the time we lived close to the countryside and I was able to get out there whatever the weather and the headache slowly disappeared.
Further discussion with the doctor and he signed me off for another 2 weeks. I now had to make a decision, I had been off work 7 weeks and had 2 more signed off. I was feeling much better, but could I face the classroom again and going back to Scouts. A week away in Snowdonia camping and the sun shone, the mountains were steep, and I said to myself as I climbed Tryfan and Bristly ridge, that if I could complete this, I would go back to work. Over 5 days I walked and scrambled all the memorable routes I had walked through in those dark days many weeks before.
Yes, I did go back, but I regulated what I did, my life came first and I was able to continue walking those mountains and hillsides and now many years later I still walk, now in the Dorset countryside and wherever I can when holidays allow. Throughout the COVID crisis I have walked daily over hill and dale and beach and cliff marveling at the world in which we live. I understand that nature has thrived during the pandemic but if it wasn't for the richness of the world around me, I may not have survived that 9 week crisis in my life.
Help us find missing people
---
Dorset Search and Rescue are funded through donation or grants, which we could not do without the support of the Dorset community. You can help us find missing people by donating, big or small. As a group of volunteers, no one takes a wage and all of your donation goes straight into the charity.
DONATE HERE
FUNDRAISE
Would you like to gift something to us instead? Check out our Amazon Wishlist, where you can purchase items we need for us. They get sent directly to the charity.
AMAZON WISHLIST
Latest Articles
---
Dorset Search & Rescue's much needed replacement Control Vehicle goes live, with thanks to local community fundraising efforts. Read more
---
Dorset Search & Rescue's much needed Water Response Unit goes live, with thanks to the Department for Transport, Ford UK and local companies. Read more
---
Poole based company, Muc-Off, make a significant donation of hand sanitizer to help us search for missing people during the Coronavirus pandemic. Read more
---

---
Help us to keep DorSAR operating and fund new life saving projects in your community by donating to us or setting up a fundraiser.
DONATE HERE
FUNDRAISE FOR US